Longhorn Buckle
This wonderful little buckle stands for the 'T' in traditional but with some very contemporary styling. The solid sterling silver base is adorned with an old west styled steer head fabricated and carved from 18k yellow gold. The buckle is fully filigreed and finished with 14k rose gold pods and an 14k yellow gold border treatment. Actual size; 1 ¾ inches by 2 ½ inches- perfect for a day at the office or in the pasture. Sale price: $2,500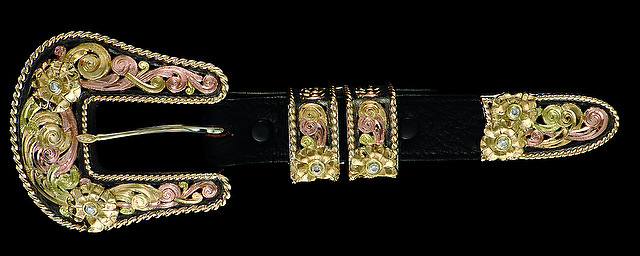 Three piece buckle set
This is Scott Hardy's interpretation of a traditional three piece buckle set. This one is very fancy with an extra keeper, loads of gold, and diamonds. The rope edge of 14k yellow gold runs from heavy to light gauge framing the 18k yellow gold flowers with 18k green gold pods. The centers of the flowers are home to 20pt diamonds with 15pt diamonds on the keepers and tip. Sprouting from the blossoms are 18k yellow, green and rose gold scrolls that wind and weave their way across the face of this magnificent piece and all of it engraved by hand. Sale price: $14,500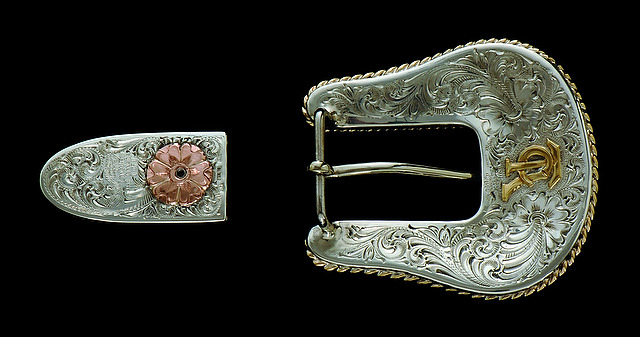 The reverse
The reverse of this buckle set is a discrete world of sterling silver floral hand engraving with the TCAA hallmark in 18k yellow gold and a rose gold flower on the tip. This set was created for a belt with one inch ends.

Cowboy scepter
This 'cowboy scepter', a fancy term for a really nice quirt, has a body made of hand rolled sterling silver tubes over a braided rawhide core. The silver stock is 1/16 inch thick. Over an ounce of 14k yellow and rose gold adorn this piece of ultimate cowboy gear. Hand engraved gold flowers are complimented by intertwining sterling silver scrolls. In addition to Scott Hardy's work on this piece, is the work of two other TCAA craftsmen; Nate Wald, who contributed the rawhide braid work which includes Spanish styled knots and Gaucho inspired horse hide accents in hand cut and beveled 1/32 inch strings, and Dale Harwood, who contributed the flower tooled popper with hand dyed background. Sale price: $16,500

Quirt handle
At the top of the quirt handle is an explosive 14k yellow gold flower with a 14k rose gold center. The underside finds the same flower in reverse, fabricated from sterling silver. An 18k gold TCAA hallmark adorns the rawhide braided wrist strap.