Indian head figure
Years ago Al Pecetti created a die of an Indian head figure and sent Scott Hardy a stamping of that die. Designing this Indian theme project, he overlaid this figure on the buckle and knew it finally had the right home. Hardy noted, 'The fully filigreed sterling silver three piece set has a funky sense of fun, just as my friend Al did!' Sale price: $3,000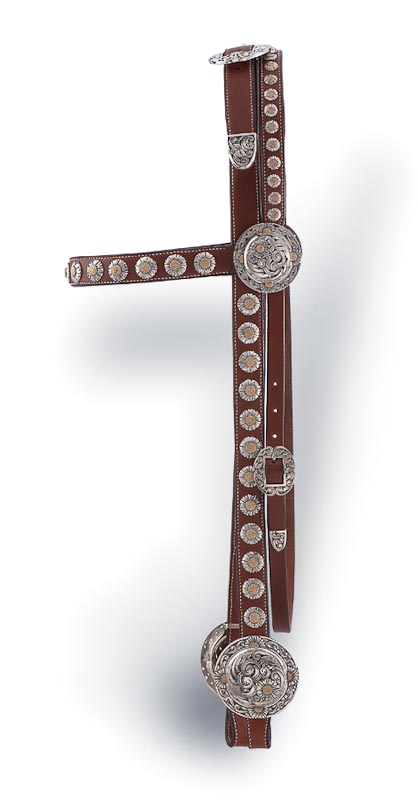 Silver-mounted headstall
Scott Hardy designed this silver-mounted headstall inspired by childhood memories of Rose Bowl Parade horses glimmering with silver and his subsequent introduction to Spanish horse silver traditions. Dominating the headstall are four conchas of sterling silver, fully filigreed with 14K gold flower pods, the largest set is 2 ½ inches in diameter. Adorning the leather are sterling silver flowers with 14K gold pods – 38 at 5/8 inches and 20 at 3/8 inches in diameter. The hand-sewn leather work is by Chuck Stormes. Sale price: $22,500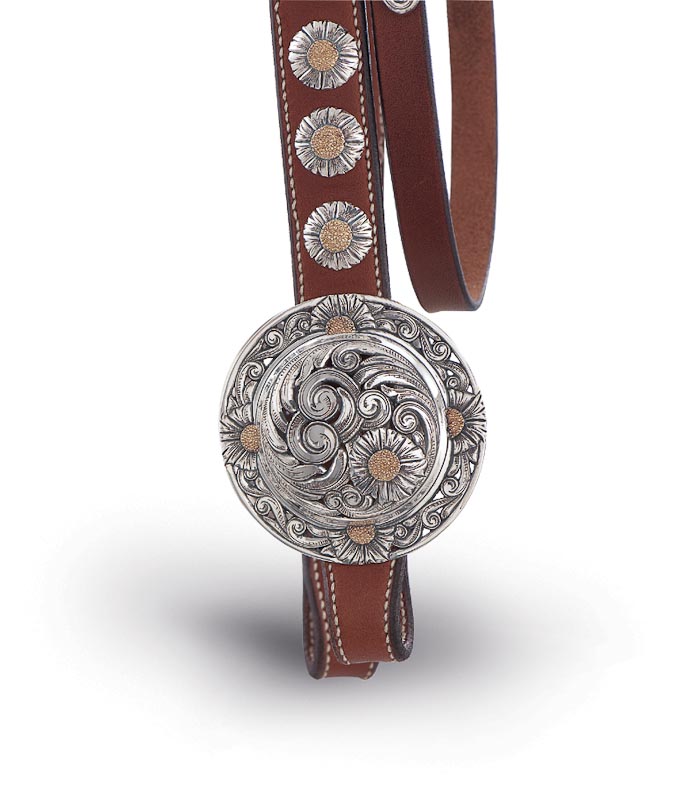 Fancy headstall
In saddle catalogs of the early 1900s you find examples of fancy headstalls which cost more than the saddles. Many featured a large concha near the bit that gave balance to the horse's head, aesthetically and physically.
The two-piece sterling silver crown buckle
The two-piece sterling silver crown buckle is sculpted and filigreed.
Buckle design
A buckle design came to mind while Hardy was reading a book on the great architect Antonio Gaudi. This inspiration is reflected by the strength of the sterling silver edge that contains the sterling silver flowers with 14K gold pods and erupting Filigreed floral scrolls. Actual size is 2 ¼ inches high by 2 ¼ inches wide. Sale price: $3,200
Lady's three-piece buckle set
This lady's three-piece buckle set (fits a 3/4 inch belt) has a silver hand-sculpted flower with a protruding 18K green gold pod. Spilling out of the flower are filigreed floral scrolls of yellow, red and green in 18K and 14K gold. The keeper is a hand-sculpted silver flower and 18K green gold pod resting on 2 18K yellow and 14K red gold scrolls. The tip also features a silver flower with 18K green gold pod and 18K and 14K yellow, red and green floral scrolls. The sterling silver set is fully filigreed and hand-engraved. Sale price: $10,300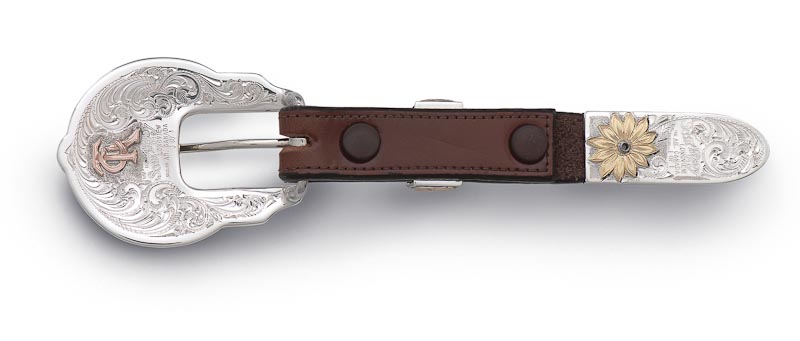 The reverse
The reverse of the buckle is fully hand-engraved with an 18K gold TCAA logo. The set screw is the pod of an 18K yellow-gold flower.