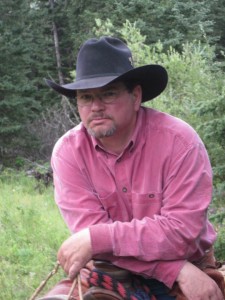 Scott Hardy is a fifth generation Western Canadian stockman who in 1981 turned his full attention to Silversmithing and Hand Engraving. From that time on Hardy has built up an impressive resume;
In 1994 his work was selected Best of Show for the 10th Annual Elko Poetry Gathering in Elko, Nevada.
1998 Hardy was one of the founding members of the Traditional Cowboy Arts Association. ( www.tcowboyarts.com )
Scott has served 7 years as an officer of the Traditional Cowboy Arts Association and was President for 3 years & now is the TCAA Strategic Planning Committee Chairman.
In 2001 he was honoured by the Academy of Western Artists receiving the Will Rogers Award for Engraver of the Year.
2005 Scott was commissioned to create personal monogram buckles for all thirteen of Canada's Premiers.
2006 was invited to the Smithsonian Institute in Washington DC to be one of the two Craftsmen to represent Western Heritage and Craftsmanship in Alberta.
2009 Scott's 3 piece buckle set was juried and selected as part of the exhibition for the Cheongju International Craft Biennale in South Korea.
The same 3 piece buckle set as part of the ACC Cheongju Selection had circulated Alberta for 2 years through the Alberta Foundation for the Arts Traveling Exhibition Program.
Served on the Cowboy Culture Advisory Board for the Western Horseman.
Commissioned to create a buckle for the Stetson Corporation for reproduction inspirations.
In 2011 was inducted into the exclusive Stetsons Craftsman Alliance.
Commissioned in 2011 to create the 25th Anniversary buckle for the Trappings of Texas exhibition and sale at Sul Ross University in Alpine, Texas.
2012 commissioned to design and create 100 sterling silver and gold buckles for the 100th year Anniversary of the Calgary Stampede. Which Canada Post incorporated the image of this buckle on the Canada to USA postal stamp. First time a buckle had been used.
2012 Co Authored a book called Saddles and Silver(Collaboration in the Traditional Cowboy Arts) with A.J. Mangum and Cary Schwarz.
Scott has taught many workshops on hand engraving and silver fabrication all over North America.
Scott has lectured many times on the history of the connection between man, the horse and silver at National Cowboy and Western Heritage Museum in Oklahoma City.
Along with these accomplishments over the last 30 years he felt honoured to have been commissioned to create many one of a kind works for various celebrities, artists, business people and cowboys.
Scott comments "Embellishing horse and rider with precious metal is a Tradition as old as man on horseback and deserves the respect of being done one piece at a time by hand".