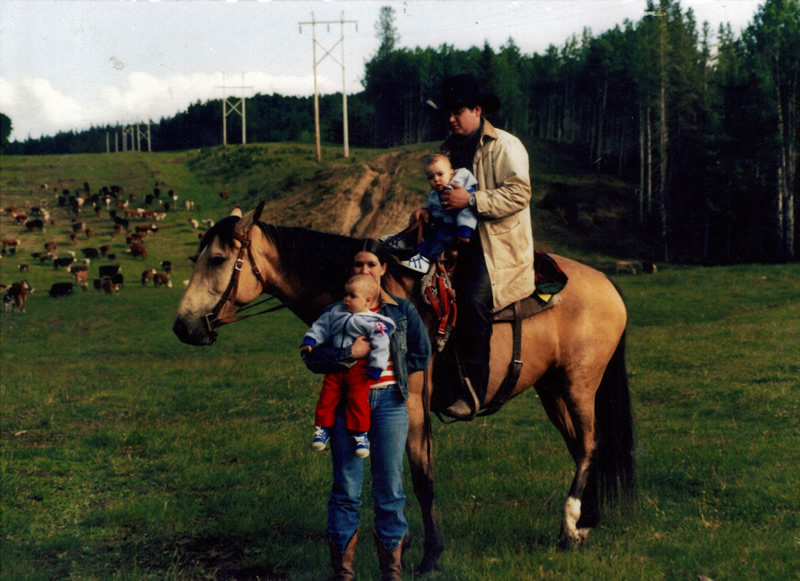 2016 marks my 35th year as a full time Western Silversmith. Over the next few months I will try and provide anyone interested a glimpse into not only my journey but also my passion and philosophies.
Some of the questions and statements I often hear are "How did you get started? You must come from a family of Artists! Was your Dad a silversmith? What school did you go to? And lastly "Where did you apprentice and who did you work for?" Lets start by getting some of the myths out of the way with a quick overview of my "Formal education" and "Influences".
I come from a family of stockmen. These are people who work with their hands, not with paint brushes or gravers but rather fencing pliers, hammers or shovels. We had no Fine Art in our home or Great Handmade Gear, although both were always appreciated. It was my beautiful wife and life partner Leslie that encouraged me to become a Western Silversmith. It was my Great Grandfather Bert who stressed "The only time you should quite learning is when they are throwing dirt on you!" I also can still hear my Grandma Myrtle's words ringing in my ears "Any job worth doing is worth doing to the best of your abilities!"
In the late 70's I was welding, shoeing horses, and worked on the oil rigs, just doing what I could to survive. I came home one day and Leslie had a newspaper add about a continuing education course on beginning Silversmithing. The course was 3 hours a night, 2 nights a week for 10 weeks. Sign me up!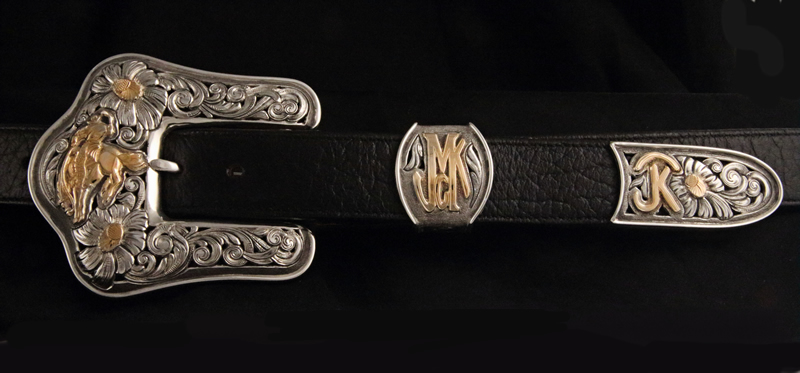 To start with we worked on small jewellery items and I really enjoyed it! With Leslie's encouragement I started buying tools and set up a little shop in our basement working nights and weekends. Soon I started attempting buckles and saddle silver. I quickly figured out the required materials were heavier, needed more heat along with different technics. Lastly I would have to learn how to engrave!!! Just to be clear this was well before the internet. I knew no one in the area that did this for a living, with the exception of a company that made it crystal clear they were not interested in helping me. My only influences came from magazines and books. There was even less information about engraving. I finally stumbled across a book by James B. Meck on the Art of Engraving. I found a man named Don Glaser who was making power assisted hand engraving machines called Graver-mister. I saved my money ordered one and I was officially Dangerous!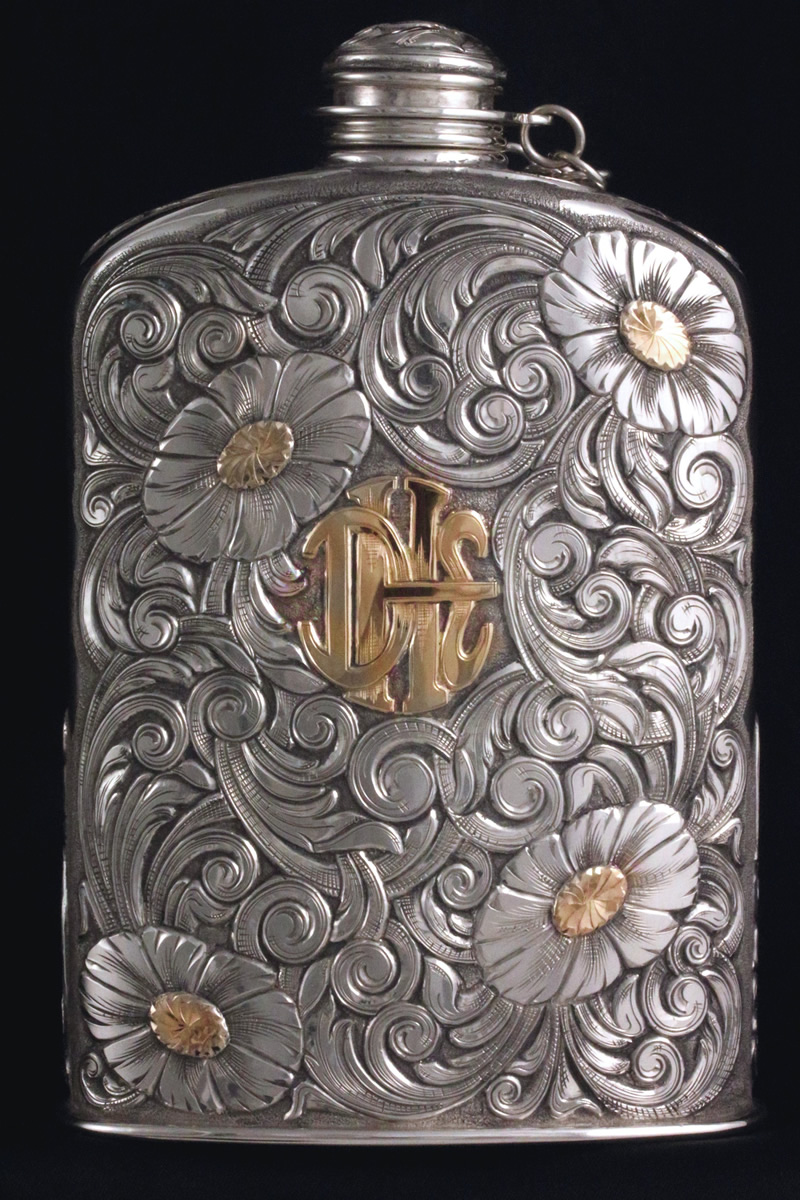 In 1980 some clients introduced me to renowned saddle maker Chuck Stormes. He had some great Silversmiths as friends and started showing me some fantastic pieces along with critiquing my work when possible. I'm still not sure whether Chuck saw something in me or felt my shear desperation to learn but I will always be indebted to him.
I flipped things around in 1981 and started working on silver through the day and
doing my other jobs in the early mornings, nights and weekends. Chuck finally recommended that I go to Cliff Ketchum who occasionally helped beginner engravers. I contacted Cliff to set up a date. He charged $100.00 per day plus I had to buy him breakfast, lunch and dinner. In exchange I was able to stay in his little holiday trailer. We had enough money saved for me to go for five days. We only had one vehicle(doubted it would have made it there and back) so I took the Greyhound Express and arrived in Walla Walla, Washington two days later. It was a good five days and Cliff opened the door on some basics of engraving for me!
Chuck introduced me to Mark Drain's work, which I thought was fantastic! I knew I wasn't at a level that Mark would be interested in teaching me yet. In1985 Mark agreed to let me spend three days with him. The cost was $150 per day plus a plane ticket. We borrowed the money from Leslie's Grandmother. Today I still feel it was some of the best money I ever spent, Mark lifted the veil for me! I loved Mark's engraving, he pushed everything by hand (no power assist). He had no problem with power assist but felt they were slower and said everyone should learn by hand first then make the decision if they wanted to use power assist. We spent three glorious days hand engraving. I came home and for the next 30 years never used a power assist again. I went to Marks again in 1986 for 3 days. I can never thank Mark and Kathy enough for their kindness and they remain today our very good friends.
I was introduce to Alvin(Al) Pecetti in 1987. I believe Al was North Americas most influential Silversmith at the time. He invited me to spend a week with him, so of course I jumped at the chance. It turned out to be a life changing trip for me. Besides the shop and design knowledge Al shared with me, he gave me advice that I have followed and have believed in from that day on. At that point in my career in addition to silver work I also built bits and spurs thinking they were the same trade. One afternoon Al took me over to the great Bit and Spur maker Al Tietjen's shop. We toured the shop then went into the house to visit over a glass of Crown Royal whiskey. During the visit the "Als" offered me some advice, In their view these were two separate trades each deserved the respect and dedication to be concentrated on fully. "Pick one, learn everything you can about it and honor it by taking it as far as you possibly can"! I picked Silversmithing and have heeded their advice ever since. I have not regretted it for one minute.
I was privileged to visit Al twice more over the next few years(5 days each time) and we grew to become good friends.
A few years ago I took a 4 day repousse class from Valentin Yotkov and recently took a 5 day course from ornamental Engraver Sam Alfona. We worked on design and techniques under a microscope, what a blast! During all this time I have and continue to read constantly about different Technics, Art, Design, Architecture, and Composition. I am interested in anything I feel will enhance my knowledge and help me become a better Silversmith and Engraver.
So folks that outlines my "formal" education. I have never apprenticed under anyone, I have no degrees and have never done piece work for anyone. I have only worked for two entities, my family and my clients.